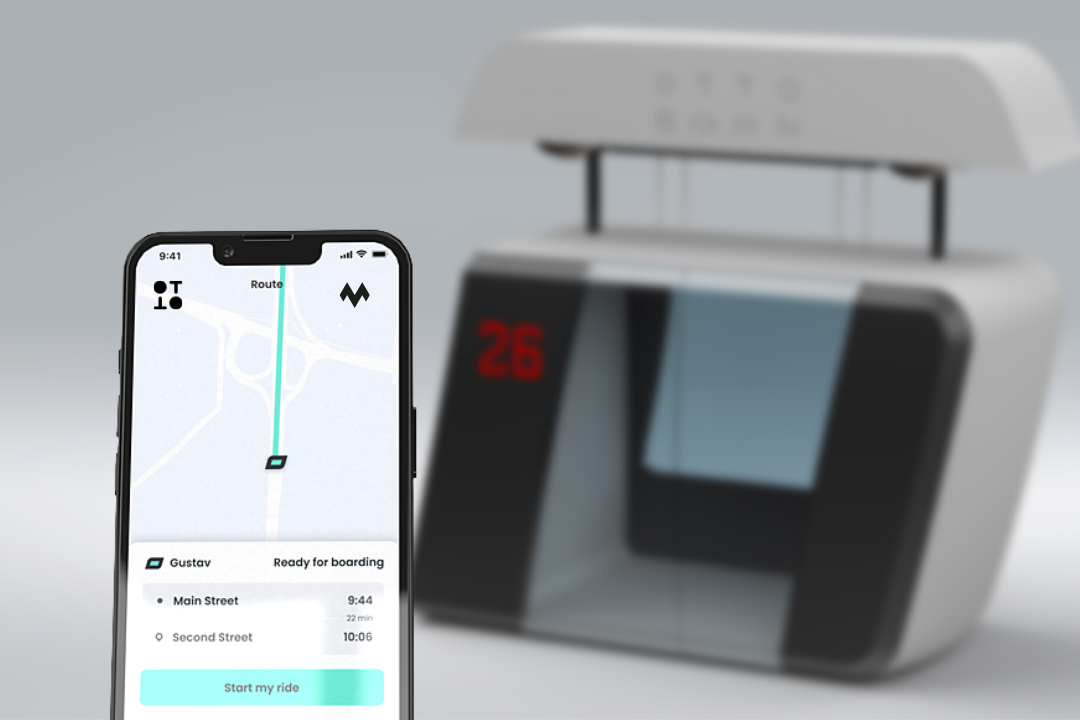 (Munich, June 22, 2022)
– Emission-free and fully autonomous transport system

– Cabins are ordered individually via app

– Funded by the Bavarian Ministry of Transport

–Test track in Munich to be built by end of 2022
The two Munich-based companies OTTOBAHN and Valtech Mobility have agreed to act as a joint development team for OTTOBAHN's zero-emission and fully autonomous transportation system based on suspended gondolas and wheel-rail technology.
Valtech Mobility will become OTTOBAHN's preferred solution provider for end-user app development, gondola infotainment and interior customization. Valtech Mobility, a joint venture company of the Volkswagen Group and digital agency Valtech, is a global leader in connected services with a special focus on cloud and software development for the connected car.
OTTOBAHN's gondolas are built to transport passengers to any destination along the route without stops or transfers. The gondolas are ordered individually via app – at the desired time, with individual start and destination. Each gondola autonomously controls how fast it travels (around 60 km/h in urban areas, up to 250 km/h over land) and which route it chooses. The distances between the cabins can also vary. With the help of an elevator system, the gondolas can lower themselves to the ground, allowing passengers to get on and off almost anywhere and eliminating the need for stops. The gondolas are equipped with special sensors that detect people and obstacles when the cars are lowered. Up to four people or goods weighing up to one ton can be transported.
The first joint development is the mobile app for the test track in Munich, which will be ready by the end of 2022. Construction of the first commercial route is planned for 2023.
Andreas Peters, Managing Director of Valtech Mobility, says of the collaboration with OTTOBAHN: "We are delighted to become part of this visionary venture. OTTOBAHN is a partner that, like us, likes to think outside the box. It's great to be able to contribute to the realization of this vision with our experience in mobility."
Marc Schindler, Can Do Officer & Managing Director of OTTOBAHN, added: "It is fantastic to have Valtech Mobility, a renowned and committed partner, at our side. At OTTOBAHN, we have the vision to revolutionize transportation and thus make an important contribution to a better quality of life in cities and in the fight against climate change. This is a challenge that we can meet better and faster as part of a strong team."
OTTOBAHN and Valtech Mobility will present the innovative transport system, which is funded by the Bavarian Ministry of Transport, at the Greentech Festival in Berlin from June 22 to 24.
For further questions please contact:
Contact OTTOBAHN: [email protected]
Contact Valtech Mobility: [email protected]
About OTTOBAHN:
Munich-based start-up OTTOBAHN wants to revolutionize transportation in and between cities – with a new transportation system above today's traffic. The transport system carries people and goods in the third dimension. It consists of suspended gondolas for up to four people based on proven rail technology.
The system is powered 100% by renewable energy and is based on individually planned journeys. Your ride with OTTOBAHN is door-to-door, sustainable and autonomous.
Let's make the world a better place!
About Valtech Mobility:
Valtech Mobility is a joint venture of the Volkswagen Group and the digital agency Valtech. Valtech Mobility is a leading global provider of connected services with a particular focus on the cloud and software development for the connected car.
Valtech Mobility has a large team of automotive experts working in the areas of vehicle software, cloud software and related products and services such as e-mobility, business process re-engineering, UI-UX development or cloud management.
Valtech Mobility manages more than 50 services in 370 versions – in an ecosystem with more than 20 million connected vehicles in 64 markets and over 20 device generations.